Bio
Amy Pepper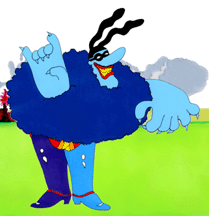 I have lived in Park Slope, Brooklyn since 1986. I grew up in New Jersey and attended 
Oberlin College
in Ohio.  I spent a semester living in Dublin, Ireland, reading a lot of James Joyce, and drinking a lot of 
Guinness
. When back at Oberlin I helped to found a student literary magazine called Writers' Bloc.
Quite Awhile Ago
Typed for a living 
Wrote fiction 
Got tendinitis
Awhile Ago
More Recently
Worked at John Wiley and Sons and created an on-line computer training web site there
Worked at the law firm of Debevoise and Plimpton
Had a daughter
Stopped writing much of anything, other than grocery lists
Recently
In 1994 I became involved with Oberlin Lesbian, Gay and Bisexual Alumni (OLGBA), which has since become 
Oberlin Lambda Alumni (OLA)
. I became the co-chair of OLA after a short time, and am very proud to have helped lead the largest LGBT alumni organization in the country for 4 years.

My old personal page is
here
.
Published on Saturday, May 31 2008 by mscrochety